Olympics: Rio Games Highlights + Closing Ceremony
The Olympic Games have finally wrapped up for this year. We're looking back at the most memorable, hilarious, exhilarating, absurd and outrageous moments from the event.
Fu Yuanhui went viral
The Chinese swimmer attracted the world's attention when she expressed her surprise over winning a medal in Women's 100m backstroke. A video of her showing lively facial expressions quickly went viral. "Whoa, I was really that fast?" the athlete said when the interviewer told her the news. "I'm very, very happy with that result!"
Fu once again made the headlines when she mentioned about her period after the 4*100m medley relay race. "It's because my period came yesterday," the 20-year old said, "so I felt particularly tired." Many praise this statement for breaking the taboo for speaking out about menstruation.
Public rivalries
The rivalry between the Australian and Chinese swimmers is well-known at this point. It started when Horton, who had just won men's 400m freestyle, called Sun a "drug cheat".
The Chinese Swimming Association's call for apology over Horton's comment was rejected by Australia's chef de mission Kitty Chiller. "[Horton] has every right to express his views and his displeasure in that sense," said Chiller. "We have no intention of making an apology."
In 1500m freestyle, Sun failed to make it into the finals after declaring himself as "the king"
of the event, while Horton finished fifth in the final race.
In women's soccer, US goalkeeper Hope Solo got suspended for six months after her controversial comment calling Sweden team "a bunch of cowards". This means that Solo would not be able to participate in US national women's team until February 2017.
"The comments by Hope Solo after the match against Sweden during the 2016 Olympics were unacceptable and do not meet the standard of conduct we require from our National Team players," said U.S. Soccer President Sunil Gulati.
Ryan Lochte's scandal
The US swimmer has been charged by Brazilian police with making a false robbery report during the Olympics.
Lochte initially said that he and a few other swimmers were robbed at a gunpoint in a taxi after a party, while a surveillance video shows the athletes getting into a fight with security guards after vandalizing a gas station's bathroom.
https://t.co/n82dZH2gfl pic.twitter.com/rGp1nmA94G

— Ryan Lochte (@RyanLochte) August 19, 2016
Since then, Lochte has issued an apology on Instagram and Twitter for the incident. However, the Brazilian police would still call Lochte in to introduce a defense in the country and send its indictment to the International Olympic Committee's ethics commission. AP reported that Lochte has lost four major sponsors over the controversy, including Speedo USA and Ralph Lauren.
Michael Phelps

As the most decorated Olympian of all time, US swimmer Phelps has become a living legend, as he added more gold medals into his collection to a total of 28 medals (23 gold, 4 silver, 1 bronze). His defeat to Singapore's Joseph Schooling sparked interest as a picture of the two athletes from 2008 emerged.
https://twitter.com/I__AM_V/status/771037087004930048
Great to see this story about @KFSportsNut's work with @joschooling. A winning team! https://t.co/Yju1EFeMbU pic.twitter.com/9j7FobH5ZM

— Sports Dietitians Australia (@SportsDietAust) August 30, 2016
Phelps also became a part of widespread discussions about sexism in Olympics media coverage, as Katie Ledecky's new world records was sidelined against his winning silver medal.
Usain Bolt and his 'bromance' with Canada's Andre de Grasse

The moment where Bolt and de Grasse exchanged knowing smiles got captured in camera, and the internet went wild for it.
As de Grasse looked to outrun Bolt, the latter noticed and ran faster while laughing and pointing a finger to de Grasse, as though saying, "Nice try, buddy."
The Usain Bolt-Andre De Grasse bromance we wanted to be real is real: https://t.co/Zz2TLWDSFC pic.twitter.com/sx8heMrZgJ

— VICE Canada (@vicecanada) August 21, 2016
Mongolian wrestling coaches strip down to protest judge's decision
When their athlete was denied victory in the contest for 65kg bronze medal, Mongolian coaches decided to strip in protest against the judges' decision. The Brazilian crowds responded in chants, "Mongolia! Mongolia!"
While the act might seem weird to some, Mongolian public supported the coaches and saw the protest as an acceptable, peaceful way to argue against the officials.
Rio romance
There's a lot of romance in the air at Rio. As British equestrian Charlotte Dujardin rode through her victory lap in individual dressage race, her fiancée Dean Golding put on a red shirt that read, "Can we get married now?"
Charlotte Dujardin finally accepts golden proposal at #Rio2016 after fiance's t-shirt plea https://t.co/Wgmmzugi0q pic.twitter.com/dwQExmC7qJ

— ITV News (@itvnews) August 16, 2016
Silver-medal winning diver He Zi was proposed to her fellow team member, Qin Kai.
Chinese diver Qin Kai proposes to silver medalist He Zi during a women's diving medal ceremony at Rio! #DrSonjia pic.twitter.com/vgxWXavCdf

— Dr. Sonjia Kenya (@DrSonjia) August 25, 2016
Although her team didn't win any medals, Brazilian rugby player Isadora Cerullo found happiness in something else. As the match with Australian team ended, Cerullo got proposed to by her partner Marjorie Enya.
Isadora Cerullo e Marjorie Enya pic.twitter.com/GKivHQgIUX

— Mino (@MinoCae) August 22, 2016
Closing ceremony
The 31st Olympic Games was finally closed at the Maracanã Stadium on August 21. Highlights include colorful parades and dances, performance by Kygo and Julia Michaels, the second appearance of Tongan taekwondo athelete Pita Taufatofua whose greased body sparked conversations, and Japan's Prime Minister Shinzo Abe dressing as Super Mario and popping out of a giant green pipe to promote 2020 Olympics at Tokyo.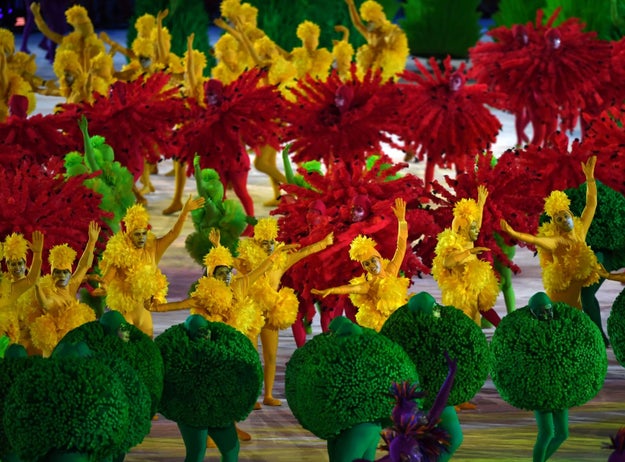 https://twitter.com/MemebotBot/status/768000912832995328